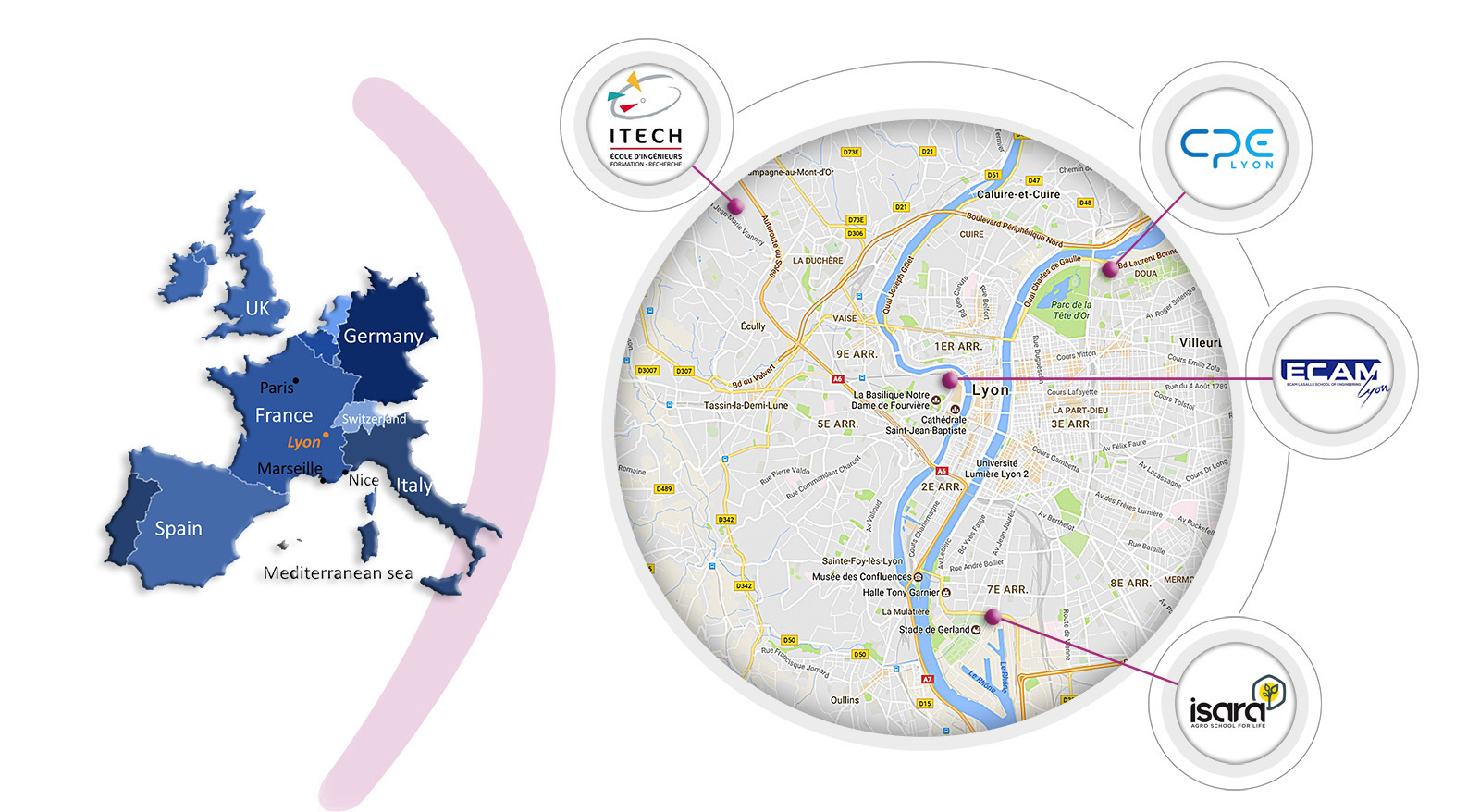 Practical details for students enrolled
Practical information IPL 2018 Summer School – The bare necessities
Students must respect the rules of conduct and regulations of the school in which they are enrolled for the engineering/science course.
Students will receive confirmation of admission from one of the four IPL schools. However enrollment will become official only after IPL has received the required participation fees no later than May 6th, 2022. We will then confirm receipt of your payment.
Arrival and departure
Expected arrival date at the residence: Exclusively on Thursday June 9, 2022, between 9.00 am and 5.00 pm. A welcome buffet will take place at the residence at 6.30 pm.
Expected departure date : Thursday July 14, 2022
We will arrange to meet you either at the Lyon St Exupery airport or at the Lyon "Part-Dieu" train station to direct you to the residence hall. Depending on the number of students arriving at the airport, we may ask you to take the "Rhône Express" train (approx. price of 13 euros) to the Lyon "Part-Dieu" train station and will meet you up there (further information will be given later).
Visa
You should check in advance with the French Embassy/General Consulate in your country of residence if a visa is required. If needed, please ask your contact person in the IPL school concerned to send you documents certifying your participation in the program.
Health insurance
Before your departure, do not forget to take out a medical insurance that will cover you for the entire length of your stay in France for the risks of accident, illness, hospitalization and repatriation. Plan to bring official proof of this insurance (in English, French or Spanish). If no proof of insurance, you will be required to subscribe to a French health insurance plan.
Budget
Plan a monthly budget of approx. 500 euros for your living expenses, excluding personal weekend trips.
Examples of prices
A meal in a dining hall: €3.15
A sandwich in a café: €4.00 to €5.00
A "set lunch" in a restaurant: €12
A coffee: €1.30 to €2
A "baguette": €0.90 on average
A kilo of fruit: €3
A student price bus ticket: €1.70 (the Lyon transport card will be provided to you, however)
A cinema ticket: around €7.50 (student price)
Meals
Lunch and dinner available in nearby dining halls. Cooking facilities available in the residence hall. Sandwiches and mixed salads can be bought at ISARA-Lyon.
Incoming mail
The address at ISARA-Lyon that you should give to your relatives and friends who may want to send you some letters during the Summer School is the following :
Xxx (your name)
International Relations
ISARA Lyon
23 rue Jean Baldassini
69364 LYON CEDEX 07
FRANCE
Miscellaneous
– Electricity voltage in France is 220 volts.
– We recommend you buy the ISIC card (International Student Card) before your departure as it entitles you to various services in foreign countries (insurance, student reductions, etc.).
See web site at www.isiccard.com

1) You may choose to pay the fees using GlobalPay for students.
2) You can also make a money transfer from your bank to IPL bank account. In that case, ask the school of your choice coordinator for IPL IBAN.
We remind you, in the case of a program cancellation, all fees will be completely refunded.
In case of a  cancellation by the student, the following conditions apply :
Total refunds are possible only for cancellations received before May 20, 2022, for cancellations received before June 3, 2022 : 50% refund (financial refund charges at the student's expense). After that date, no fees refundable.